My Favorite Stock Market Books to Give and Get
The holidays always arrive with mixed emotions.
And this year, stress about the market may be putting a damper on your holiday festivities. But you survived the year, and I'm optimistic about what lies ahead, as we usher in a (hopefully) bullish – or, at least, less bearish – new year.
With that in mind, let's take a break from our usual stock market topics to discuss holiday gifts – either for your favorite trader or for yourself.
We won't veer too far off-topic by talking about cashmere scarves or Starbucks gift cards. Instead, we'll focus on books – specifically, my three favorite investment-focused books.
If you're looking for some respite from 2022's stock market volatility and heartache, then try decompressing in front of a crackling fire with one of these books…
---
Now Available: 8 Best Growth Stocks for 2023 
Louis Navellier, Eric Fry, and Luke Lango joined forces for the first time ever to uncover the best-performing stocks for 2023. They agree these 8 stocks are the most "urgent buys" today. Learn more here.
---
Book No. 1: The Money Masters by John Train
(Source: GoodReads.com)
For a cross-section of the investing methodologies of nine great investors, I like this John Train classic, The Money Masters.
It offers insights into the successes of Warren Buffett, Philip Fisher, Benjamin Graham, and more of the industry greats.
Learn about their unique investment styles and how they've led to consistently profitable investments. This one will appeal to both beginners and seasoned investors.
And if you love this one, follow it up with Train's sequel, The New Money Masters.
Book No. 2: Extraordinary Popular Delusions and the Madness of Crowds by Charles Mackay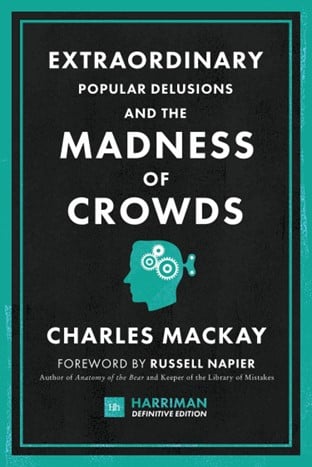 (Source: Amazon.com)
My next pick, first published in 1841, is often cited as the best book about market psychology ever written.
Even though this investment classic first appeared in press 180 years ago, the topic Extraordinary Popular Delusions and the Madness of Crowds examines is as timeless as ever.
Generation after generation, market cycle after market cycle, mobs sometimes form as spontaneously as a tornado. Then they rip through the stock market to produce wild speculative extremes.
Again, this phenomenon isn't new. It is at least as old as Holland's "tulip bulb mania" of the early 1600s. This fascinating tale of excess featured a multiyear speculative frenzy for exotic tulip bulbs that topped out in 1637.
At the peak of the mania, a single bulb changed hands for 5,200 florins, which was more than three times what Rembrandt charged for painting "The Night Watch" just five years later.
According to Mike Dash, who wrote Tulipomania: The Story of the World's Most Coveted Flower & the Extraordinary Passions It Aroused…
[5,200 florins] was sufficient to purchase one of the grandest homes on the most fashionable canal in Amsterdam for cash, complete with a coach house and a [small] garden – and this at a time when homes in that city were as expensive as property anywhere in the world.
This particular comparison is not merely theoretical. Earlier in the tulip mania, the owner of a prime townhouse in Amsterdam offered to exchange it for 10 bulbs of the coveted Semper Augustus.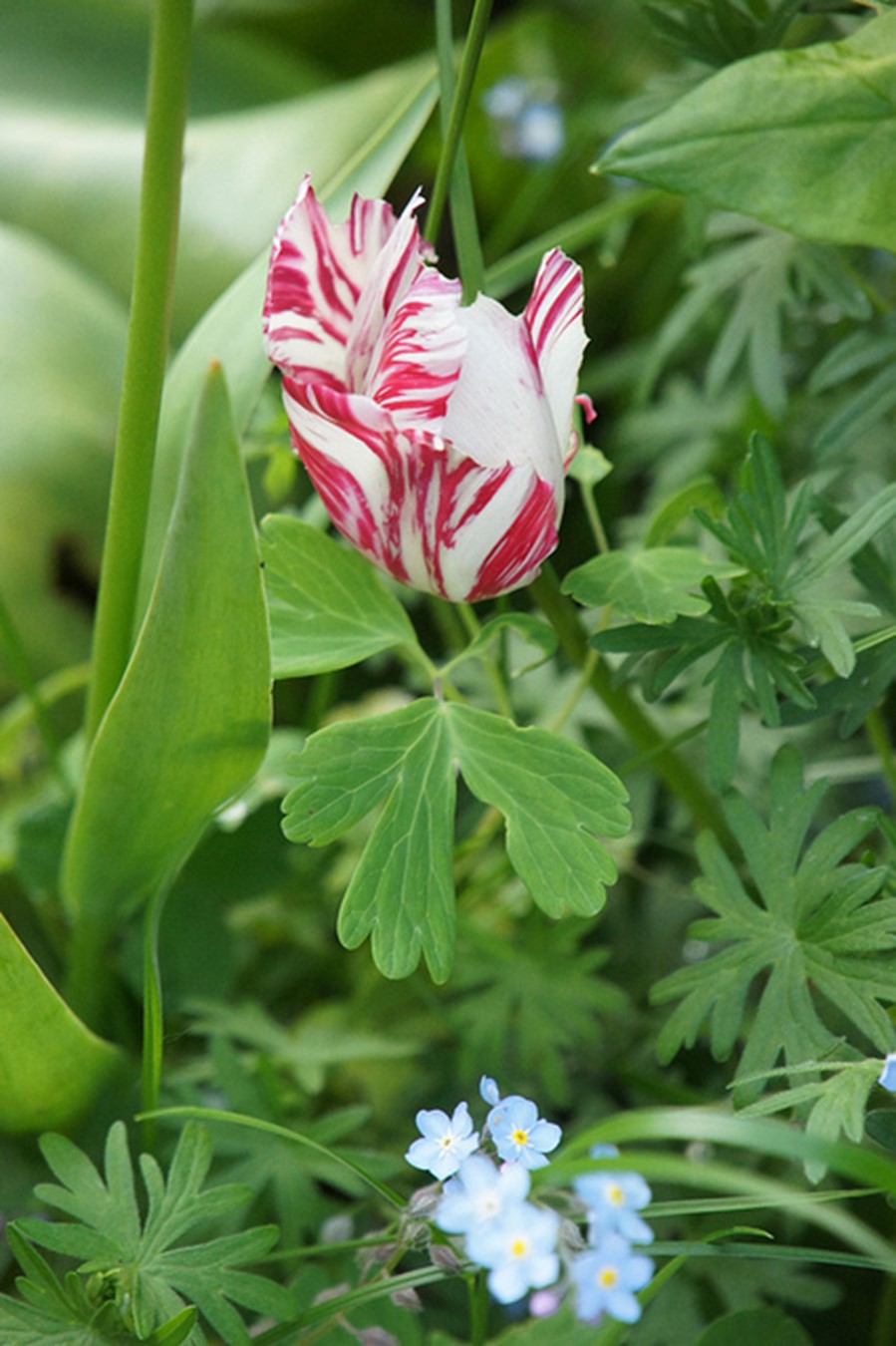 (Source: Focus-Economics.com)
The book captures the two main emotions – fear and greed – that take over during fast-moving market trends. It's a timeless reminder to keep a cool head when other investors are losing theirs by panicking in the midst of market turbulence.
Book No. 3: Where Are the Customers' Yachts? by Fred Schwed Jr.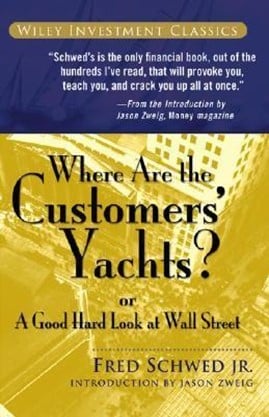 (Source: GoodReads.com)
A wry look at the hypocrisy that lies in the business of investing, particularly among financial advisers and brokers, Where Are the Customers' Yachts? rounds out our reading list.
An ancient, perhaps fanciful, tale inspired the quirky title ofthis 1940's critique of Wall Street.  As the story goes, a local Manhattan resident and an out-of-town visitor were strolling along the shoreline of Battery Park when the local boasted, "Look, those are the bankers' and brokers' yachts!"
The friend innocently replied, "Where are the customers' yachts?"
In keeping with that ironic title, author Fred Schwed provides an array of folksy – and sometimes irreverent – insights into the real world of investing. A few of my favorite quotes include…
Those classes of investments considered "best" change from period to period. The pathetic fallacy is that what are thought to be the best are in truth only the most popular – the most active, the most talked of, the most boosted, and consequently, the highest in price at that time. It is very much a matter of fashion…
Investment and speculation are said to be two different things, and the prudent individual is advised to engage in the one and avoid the other. This is something like explaining to the troubled adolescent that Love and Passion are two different things. [The adolescent] perceives that they are different, but they don't seem quite different enough to clear up [the confusion]… Speculation is an effort, probably unsuccessful, to turn a little money into a lot. Investment is an effort, which should be successful, to prevent a lot of money from becoming a little.
Like all of life's rich emotional experiences, the full flavor of losing important money cannot be conveyed by literature…Nor can any description that I might offer here even approximate what it feels like to lose a real chunk of money that you used to own.
Schwed's core message is not that Wall Street is "bad," or that professional investors are scoundrels; his message is simply a plea to apply common sense to the investment process.
That sort of common sense begins with a realistic assessment of one's personal risk tolerance, and ends with a sober assessment of the risk and reward each investment opportunity offers.
That's a message that applies to every investor of every generation.
Incidentally, this book is a favorite of Michael Bloomberg's, who said…
How great to have a reissue of a hilarious classic that proves the more things change the more they stay the same. Only the names have been changed to protect the innocent.
Looking Ahead to 2023
I hope you can set aside some time this holiday season to enjoy these somewhat insightful glimpses into stock market psychology and successful investment strategies!
For more pointers on how to approach 2023 – and all the good, bad, and ugly things that can come from it – catch a replay of the Early Warning Summit here.
I sat down with two of the best stock-pickers I know – Louis Navellier and Luke Lango – to talk about investors' biggest concerns going into 2023. We put together a game plan that combines each of our talents and approaches to the market.
It's not too late to catch the event.
We'll be giving away the name and ticker symbol of three stocks we believe could soar in 2023.
And you'll walk away from this event with a plan in place to potentially make a lot of money in the new year, no matter which direction the markets head.
Learn more about the event and get this brand-new special report right here.
Regards,
Eric
Products You May Like